I have been promising Debbie Wilkins that I would get her this recipe so here it is. It is so yummy.
White Chili
1 lb. chicken (I use 2 cans of chicken)
1 medium onion, chopped
1 1/2 tsp. garlic powder (I use chopped garlic when I have it on hand)
1 Tbsp. vegetable oil
2 cans Great Northern beans, drained and rinsed
1 can chicken broth
2 cans chopped green chili, not fire roasted (I use 1 can)
1 tsp. salt
1 tsp. cumin
1 tsp. oregano
1/2 tsp. pepper
1/4 tsp. cayenne pepper (I use about 4 times this amount)
1 cup sour cream
1/2 cup whipping cream
Saute the chicken (if you aren't using canned) and the onion in the vegetable oil. (If you are using chopped garlic instead of garlic powder, add it for the last minute of sauteing.) Put in a large pot. Add remaining ingredients except for the sour cream and whipping cream. Simmer for 30 minutes. Turn off heat. Add sour cream and whipping cream. Enjoy!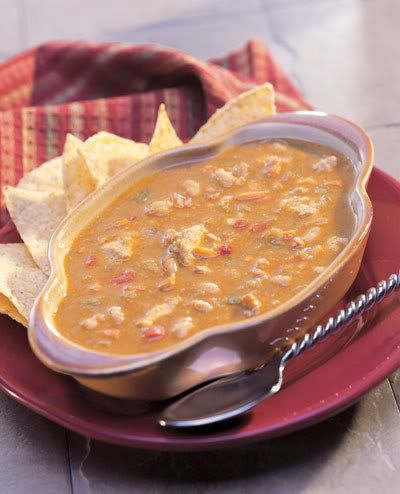 (Disclosure: This is not a picture of the white chili recipe that I just posted, just a picture of white chili that I found online.)